Filled
This offer is not available anymore
Job Description
Devo, the cloud-native logging and security analytics company, empowers security and operations teams to maximize the value of all their data. Only the Devo platform delivers the powerful combination of real-time visibility, high-performance analytics, scalability, multitenancy, and low TCO crucial for monitoring and securing business operations as enterprises accelerate their shift to the cloud. Headquartered in Cambridge, Mass., Devo is backed by Insight Partners, Georgian, and Bessemer Venture Partners. Learn more at
www.devo.com
.
As a Senior DevSecOps engineer you will work with the Devops Engineering team inside the R&D department with the mission of motivating and leading the adoption of DevSecOps best practices across the product building processes.
Responsibilities
Perform checks to ensure our production pipeline is secure — from developer machines to servers.
Extend our CI/CD process with automatic security scanning for vulnerable dependencies and static code analysis, and compliance checks.
Assess, analyse and prioritize security risks across our clouds infrastructure (AWS, GCP, Azure).
Willingness and ability to coach and train engineers on application security aspects ( e.g. via security challenges / tournaments like the Secure code Warrior platform).
Experience in system security, network and application audits.
Predefining security policies, utilizing Security as Code to report cyberattacks and reduce probability of errors throughout the development cycle.
Build positive relationships with major change programmes delivering new capabilities and cyber security technology.
Have deep knowledge of networking including tls and dns, and you're not afraid to debug traffic with a network packet analyzer.
Have professional experience with Infrastructure as Code, CI/CD, monitoring, logging and alerting.
Have professional experience in distributed and resilient (containerized) applications in docker and Kubernetes.
Zero Trust concepts and strategies.
Requirements
Bachelor's Degree in Computer Science or related field or equivalent experience.
Knowledge of CI/CD practices and tools: Jenkins, Gitlab pipelines.
Experience with static and dynamic software scanning tools such as JFrog Xray, Veracode, Sonar, Blackduck. Security evaluation and scanning tools: Nessus, OpenVAS, Tenable, Burp Suite, Metasploit.
Experience in Cloud ecosystems preferably on AWS.
Knowledge of Source Code Control Systems and Workflows: ​Git and gitflow.
Knowledge of agile methodologies.
Experience with Unix environments.
Desired
Master's Degree in Computer Science or related field.
Experience with Containers and Container orchestration: Docker, Kubernetes, Helm, Docker Swarm.
Configuration Management Tools and Infrastructure as a code: Ansible, Terraform, Cloudformation.
Experience in cloud ecosystems and distributed components SaaS platforms.
Bilingual: Spanish + English.
Devo does not discriminate on the basis of race, color, national origin, religion, gender, age, veteran status, sexual orientation, marital status or disability (in compliance with the Americans with Disabilities Act) with respect to employment opportunities.
"Devo is committed to creating a welcoming culture that is not only grounded in teamwork and customer success but is fair and equitable for everyone." Marc van Zadelhoff, CEO
At Devo, diversity and inclusion means more than treating employees well and making them feel welcome. It is a commitment to hiring people who bring different insights because of their unique perspectives, ways of thinking, and prior experiences.
We intend to continue hiring great people and protecting our culture so everyone can be themselves and speak their minds. That way Devo will always be a place filled with purpose, energy, hard work, thoughtfulness, and respect.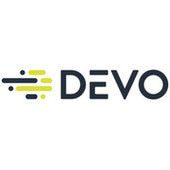 Big Data

Cambridge, MA, USA

200-500

2011
.
Other devops jobs that might interest you...