Filled
This offer is not available anymore
Job Description
King is looking for Senior and Mid level Cloud DevOps Engineers who are passionate about building secure, reliable and financially operable Cloud infrastructure. You will join a new, growing organization within a central team that provides tech stack and infrastructure to all of King's games . The Cloud Foundations team manages foundational Public Cloud Governance at King, with an additional focus of facilitating cloud adoption and advocating for Cloud Native technologies. We primarily use GCP for hosting our production games and data analytics platforms, with some infrastructure & ancillary services in AWS and Azure. We are looking for professionals of all levels who share our passion and drive.
We love hearing from anyone who is enthusiastic about public cloud governance. Not sure you meet all qualifications? Let us decide! Research shows that women and members of other under- represented groups tend to not apply to jobs when they think they may not meet every qualification, when, in fact, they often do! We are committed to creating a diverse and inclusive environment and strongly encourage you to apply.
Main responsibilities
Define, codify and templatize public cloud platform- level and resource management configuration and frameworks - including organizational policy, account/project structure, IAM, logging and security policy.

Create, maintain and improve public cloud governance and security tooling and various internal systems for providing secure- by- default, self- service access to the cloud.

Deliver tooling for Cloud FinOps at King that provides engineering teams with granular cost data for their services, expressed in both $ and CO2, that helps drive a culture of cost awareness and accountability where optimization and sustainability are key outcomes.

Maintain and support multi- tenant Kubernetes infrastructure for internal customers at King.

Help build out internal best practices around public cloud usage and enablement, with a focus on defining everything as code.

Partnering closely with our game backend teams, work with other engineering teams across Shared Technology group, Game teams and the wider Kingdom on ensuring their smooth migration to cloud.
Skills to create thrills
SRE/DevOps/Platform engineering experience.

Experience with some of the following: public cloud governance, Cloud FinOps, distributed compute environments, serverless compute, application development, big data analytics, cloud computing including containerization, hosted services and multi- tenant cloud infrastructures.

Programming experience preferably with Python or Go.

Experience working with declarative tools for defining cloud resources and applications, such as Terraform and Helm.

Good knowledge of SQL, preferably BigQuery.
Tasty bonus skills
Knowledge of Google Cloud Platform. Certified Google Cloud Professional, Cloud Architect or similar.

Knowledge of other public cloud platforms, including AWS and Azure.

Experience rolling out changes to public cloud governance - e.g. GCP/AWS org policies, IAM controls.

Experience building secure and scalable environments within Google Cloud Platform (we use a mix of containers in GKE, Cloud Functions, Cloud Run for deploying our apps).

Familiarity with modern cloud- native architectures.

Experience working with public cloud billing data.

Experience deploying and working with secret management solutions like HashiCorp Vault.

Working knowledge of containers and orchestration technologies and knowledge of various architectural patterns preferably Google Kubernetes Engine.

Experience of CI/CD like Jenkins, CloudBees, Drone CI and/or Cloud Build.

Knowledge of monitoring systems and frameworks, Google Cloud operations suite, Prometheus and Grafana.

Knowledge of BI/reporting tools.

Experience dealing with hybrid environments with multiple dependencies.

Strong Linux and computer networking expertise is beneficial.
About King
King is the game developer behind the world- famous Candy Crush franchise, as well as mobile game hits including Farm Heroes, Bubble Witch and Pet Rescue. Candy Crush is the top- grossing franchise in US app stores, a position it has held for the last two years, and King's games are being played by 245 million monthly active users as of Q3 2021. King, which is part of the Activision Blizzard group since its acquisition in 2016, employs nearly 2,000 people in game studios in Stockholm, Malmö, London, Barcelona and Berlin, and offices in San Francisco, New York, and Malta.
A Great Saga Needs All Sorts of Heroes
Making games is fun. Especially when you do it with people who share the same idea of what makes a good workplace great. We design games for everyone, no matter where they are or who they are, and we employ all sorts of people from all kinds of backgrounds to bring them to life. Truth is, we simply cannot expect diversity in our players and originality in our games without first nurturing it in our people. A great saga needs all sorts of heroes.
Making the World Playful
Making the World Playful is what inspires us to create new experiences and raise the bar. It's what makes King a place where we can all dream bigger, continue to add innovation to our games, broadening the portfolio and exploring new territories in mid- core and casual. We take the art and science of gaming to the next level through our curiosity for the unexplored, passion for games, respect for each other and love for our players - and we're not afraid to have fun along the way. In fact, together with our parent company Activision Blizzard and experts around the world, we believe having fun is good for you. There has never been a better time to join us. We're dreaming bigger and see a world of possibilities ahead. If you share our passion, our values, and our hunger to shape the future, join us in Making the World Playful!
Applications need to be in English.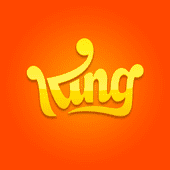 Games

Privately Held

 London, United Kingdom

1001-5000 employees

2003
King is a leading interactive entertainment company for the mobile world, with people all around the world playing one or more of our games.

We have developed more than 200 fun titles, and offer games in over 200 countries and regions. Our franchises include Candy Crush, Farm Heroes, Pet Rescue and Bubble Witch. We have 340 million average monthly unique users, as of second quarter 2015, across web, social and mobile platforms.

At King, we design games with a broad appeal, which allow people to play for a moment, then move on with their day and pick up their game later. Our games are also synchronized across platforms, allowing players to switch seamlessly between devices and platforms and continue their game wherever they left off, so they can play anywhere, any time and on any device. For us, this is encapsulated in the idea of bitesized entertainment.



King has game studios in Stockholm, Bucharest, Malmö, London, Barcelona, Berlin, Singapore, and Seattle, along with offices in San Francisco, Malta, Seoul, Tokyo and Shanghai.


Other devops jobs that might interest you...